Rashad Mehbaliyev is an Azerbaijani-born economist having lived in Hungary in the past eight years and is a board member of the Azerbaijani-Hungarian Youth Union, founded in 2012. We sat down with him to talk about the Azerbaijani community in Hungary, the challenges it faces in everyday life and its opportunities to address these issues.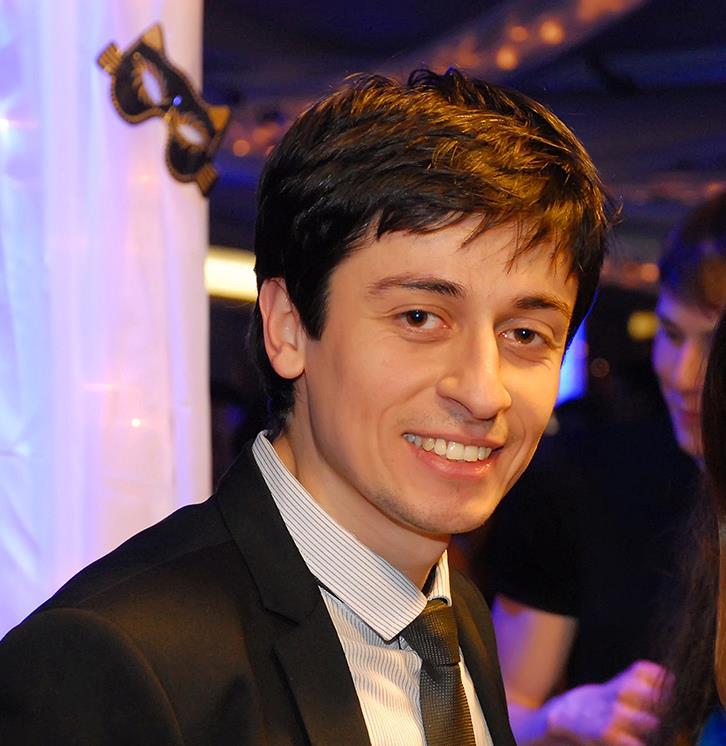 What is your personal story of coming to Hungary?
I came to Hungary in 2009 with a scholarship to study at Central Europe University. I came to study my master's degree in economics, and after graduation I received a job offer from IBM. I liked Hungary and my life in Budapest, therefore I decided to stay here.
What were the major difficulties you experienced when you first arrived to Hungary?
Since I came to Central Europe University, everything was in English in campus. They have 25 years of experience teaching in Hungary, so they know how to treat people from different countries all over the world. They know how to manage it efficiently. I was on a small island where everything was done completely differently and in efficient way for foreigners. There we had a very comfortable life, but studying was very hard. I didn't have any difficulty as we were helped with many issues. [After completing my education] I had more difficulties because I had to do everything myself. When you're a student almost everything is done for you, but when you are working you have to manage many things on your own. It was quite difficult, because back then I didn't speak Hungarian at all. There weren't even enough websites to search for an apartment or real estate agents in English. Now, our community has fewer difficulties because there are more websites and other things available in English. Therefore I think younger generation has fewer problems here.
 
Can you tell us about your organization?
We try to link Azerbaijani and Hungarian people in whichever ways we can, except we are not involved in politics. We help Hungarian people to go to Azerbaijan for travel or study, and vice versa. It's much easier to bring Azerbaijanis here because there are more opportunities for foreigners in Hungary, and we know how to approach to our people. Moreover, Azerbaijan is economically less developed than Hungary, therefore Hungarians have less interest in going to Azerbaijan. We organize cultural and promotional events either in Hungary or Azerbaijan, and we help businessmen in both countries to meet each other for mutually beneficial deals. In simple words, integration is our main goal.
 
How long is the history of the Azerbaijani community in Hungary?
There was not enough movement from Azerbaijan to Hungary during the socialist times, but after the regime changed and the Soviet Union collapsed, people started migrating more. In 1990s, Hungary was not a popular destination for us, but after Central Europe University started accepting Azerbaijani students on scholarship more of us came here starting from late 1990s and early 2000s, it was about 20-30 a year in mid-2000s. Many of them returned to Azerbaijan, but some of them, like me, stayed here after graduation. Another wave of movement here came when the capitals connected via direct route by Wizzair around 4-5 years ago, consequently tourism became popular. Now there is much more interaction between 2 countries. The Hungarian government launched Stipendium Hungaricum scholarship, so now around 200 students from Azerbaijan come here every year to study in the prestigious Hungarian universities. At the moment, there are around 400 people here, and it will continue to grow.
 
What are the major characteristics of this community?
Most of them are students between 18 and 30 years old, because we have a project called 'Study in Hungary' that is meant to show the importance of education in Hungary. It contributes to raising awareness about education opportunities in Hungary to foreigners, especially to Azerbaijani youth. There are many programs to study in English language, and some in German and French. People started to get more information and to come here more than before our community members are . The rest of the people here mostly work for big corporations like Citibank, TATA, Vodafone, IBM, Morgan Stanley, etc. These corporations offer positions to people who don't speak Hungarian, but still speak many different languages. From a historic point of view, we speak 3 languages: English, Russian, and Turkish. Not many Hungarians speak these, so Azerbaijanis have a competitive advantage. The gender distribution is relatively equal, but I think Azerbaijani males are a bit more than females here.
 
Do institutions of higher education provide a friendly environment for foreign students from your country?
We are trying to promote educational opportunities in Hungary to Azerbaijani youth, and so far, in the last four or five years, I didn't see any problems with discrimination [against] our community. So far all applications to the university and study programs went well. I know there are some restrictions for non-EU citizens that we have to go through, but overall no issues with discrimination. What we see is that Hungarian education is becoming more popular, so many foreigners from all around the world are coming here to study. Eventually Hungarian universities are increasing fees and tuition over time, and this becomes a bit unaffordable for Azerbaijan citizens since most of us are not rich. They have to rely mostly on scholarships that Hungary provides. Compared to five years ago, tuition fees increased by 10-20% on average and even doubled in certain programmes. What we want to see is more affordable programs by universities and more Hungarian language courses organized by NGOs. It is very hard to find a language course for learning Hungarian for a student budget. Most of them are for the basics or intermediate, but it is very hard to find courses at a more advance level.
 
Does your community face challenges regarding health care and housing?
Most of our community owns a social security card which provides health care, however it can be hard to use it in the health care sector because of the language barrier. Even if they do speak the foreign language, there can still be a misunderstanding between the doctor and the patient. This is the main problem, but in private clinics it's not a very big issue. It's an issue mostly in state-owned clinics and hospitals. For the people who are very young, they are having a difficult time trying to find housing. In most places, they are considered underaged even if they are 18. The difficulty is that many flat owners will not agree to sign a lease to a 18-20 years old student because they think it's risky with payment. The owners don't have knowledge about the Azerbaijan culture, therefore they hesitate to take Azerbaijani tenants. There are, of course, open-minded flat owners and property management companies, but it is time-consuming and tiring to find an apartment and get the proper documentation to the immigration office.
 
How do migration and aliens policies affect your community?
At the moment, I can't recall any significant problem. I remember it was difficult for me when I came because there was no Hungarian embassy issuing visa for education purposes in my home country, so I had to apply through the Hungarian consulate in Istanbul. But now it's much easier because we have an embassy issuing all kind of visas in Baku, the capital of Azerbaijan. We see almost no problems with visas for the purposes of education or family reunification. There are sometimes problems with short term visas for touristic purposes and rejections are not rare. I remember even three years ago it was hard to get an appointment at an embassy. There was an old fashion method, but now this step is online and requirements are available on official website, which makes processes much faster and more transparent.
Are there any obstacles regarding employment?
The work permit applies to non-EU citizens, as well as Azerbaijanis and the process, if properly done, takes about 2-3 months. Sometimes employers and managers are a bit impatient and they need someone who can start immediately, like someone with an EU passport. This is a disadvantage for us, but we also have and advantage [at the same time] . Most of our community members are studying at the prestigious universities in Hungary and they speak multiple languages.. So, for foreign language positions at shared services centers, many Azerbaijanis will beat out competitors easily due to this fact. The only issue we see is the time required for the work permit.
 
What do you think we can learn from these issues?
We understand that Hungary cannot change alone uniform rules adopted in EU. Namely, Hungary can't change visa policies or eliminate these administrative requirements for Azerbaijanis. There should be rules, but of course, the processes can be simplified or waiting time can be shortened in application processes. More information can be available in foreign languages online. The government can try to educate and promote to small and medium enterprises about the work permit requirement. Big enterprises already know, but smaller ones don't know enough. For example, if a relatively small company wants to expand to a Russian speaking or Turkish market, they'll want to hire Azerbaijani citizens. But since they know nothing about the process, they won't even try it. So it would be good for us if there were some kind of portal where our community could raise these kinds of problems.

How could the everyday experience of your community be improved?
From my experience, in 8 years what I have been here, there is a need for more information online either in English or other major foreign languages. It has improved significantly, but there is always room for more improvement. If Hungary wants more capital, like human capital, financial capital, then more information in foreign languages should be available online. Our community is quite skilled, so their potential should be utilized, through seminars, careers fairs, investment opportunities, etc. For example, we have Azerbaijani entrepreneurs with companies established in Hungary, but they don't know how to apply to certain funds and tenders due to language barrier. If our community is strong, then we make Hungary stronger together.
  
How organized is your community? Does it have the means to provide help to its members or to get involved in public life in Hungary to advocate its interest?
Our community is mostly young people, and they're studying or working, so they don't have a lot of time to get engaged in all sectors. However, I've seen many of them getting involved in volunteering for NGOs or joining academic clubs or doing internships at big companies. They are trying to get an international experience and contribute to Hungarian society at the same time. They also give donations to organizations in different forms (clothes, money, etc.). Some of them are very active with the media, like doing blogs for travel opportunities which brings tourists here. I think about 30% percent of our community is involved in things outside of their regular studies and work. In my opinion that's a good number. We are seeing more that our community is having a bigger understanding of Hungarian society, which makes our lives easier. These people that are learning about society can act as mentors for our community members that are newly arriving here. In my case for example, it took me 5 or 6 years to find out enough about Hungarian society, but if someone new comes and I talk to him for a year from time to time, in one year, he knows as much as I knew in 5 years. So it was challenging for me because there weren't that many people to learn from in our community, but now we have enough people to act as mentors. We have a Facebook group where we exchange our information and help to find things like good hairdressers and doctors or valuable job and internship opportunities.
 
What role can public authorities play to more effectively organize your community in society?
It's all about involving foreigners in everyday life in society, and making information available in English. There is very little interaction between government and public institutions with foreigners in Hungary. But once they interact with each other directly, they can give feedback to each other. For example, in Hungary there are certain recognized minorities which have been here historically. However, new migration waves brought thousands of people from other countries, but since they are not recognized minorities by law, their voices are not heard. Georgians, Azerbaijanis or Chinese for example are not well represented in certain aspects. So, what I recommend is to listen to these people or their representatives, their feedback and suggestions might be really valuable.
Abby Day